04/07/2021
In an interview, your goal is to assure the hiring manager that you are the right person for the job. You want to show that you have the appropriate skill set, a great personality, and the drive to make things happen in your new role.
As you prepare your answers to interview questions, it is important to realize what might be a red flag to the hiring manager. After all, one wrong answer and you might not get you the offer for the job. Be sure that your abilities and accomplishments are what the interviewer remembers.
Do research on the company you are interviewing for. You want to show the interviewer that you are excited about the opportunity, have done your homework, and have thought about how you would be a good cultural fit for the company. Have some thoughtful questions prepared for the end of the interview. You will want it to feel like a conversation. Do not be afraid to take notes!
In an interview, always speak positively about a former employer. Keep your tone between neutral and positive when speaking about that company and your experiences. Focus on what you learned from that experience and what you are hoping to do with what you will learn in the future. You do not want the interviewer to believe you are difficult to work with.
When speaking about your history and the job you are interviewing for, you always want to be confident. Do not let the company know you are nervous. Hiring managers are looking for individuals who are passionate about the role they want to take on. Be ready to explain why this role is exactly what you are looking for. Do not say "I'll do anything for any role at this firm."
When interviewing as a recent graduate or an individual looking for a career change, do not apologize for the experience you do not have. Show that you are confident about your ability to learn. Instead of drawing attention to your weaknesses or what you may lack on your resume, stay positive, focus on your strengths, and immediately speak to your transferable skills and enthusiasm for the position.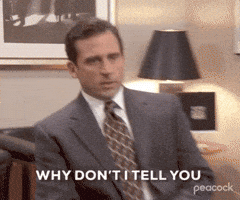 Hiring Managers have seen a lot when discussing backgrounds in interviews. Prepare your answers for some interview questions, but do not memorize them word for word. That will make it hard to engage in a genuine conversation with the interviewer. Avoid words like "like", "um", and "you know" when engaging in conversation with the interviewer. This can make you seem like you lack confidence or lack the ability to communicate clearly. If you are not prepared for a question, do not respond with "I don't know." Take a moment to think it over and respond to the question fully and thoughtfully.
When discussing your accomplishments and achievements, make sure they are in line with your other qualities. If they do not fit in at that time, wait for a better opportunity to discuss them.
Wait until the final interview to discuss promotion, vacation, and pay. Discussing these topics in the beginning of the interview process can be awkward. You may appear overly confident. Interviewers want to meet with you to see what you can do for the organization. They want to know what you can do to make the company money, improve business processes, grow the organization, and make their lives easier. Making you happy will be important if they want to add you to their team, but you will not get to that stage if you set your demands too early.
Most employers want to hire someone who will thrive within the company and their role(s) with the firm. Focus on what you can bring to the organization and the role for which you are interviewing. If the interview goes well, they can offer you the role or if they choose another candidate and think you would thrive there as well, offer you a different role. No matter how short, long, casual, or formal an interview is, being prepared to highlight your successes in your previous roles and shine a positive spotlight on your accomplishments will help set you apart from other candidates.